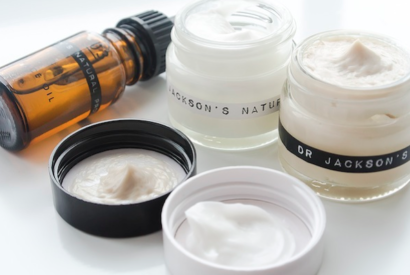 Introducing: Dr. Jacksons
Be wooed by Mr. Natural with this exciting new all botanical range, on its way to Spring spa.
Launched late last year, Dr Jackson's was formulated by an industry leading Pharmacognosist, Dr. Simon Jackson based on Pharmacognosy principles, utilising the best from nature.
After spending years researching local medicines and tapping into thousands of years of native knowledge in his travels throughout South East Asia, Sub Saharan Africa, and Latin America, Dr Jackson set about putting his vast knowledge of local indigenous plant medicines and research to good use.
A very good use it was indeed. After 19 years of research, Dr Jacksons's eponymous brand uses techniques that mimic the way that natural ingredients are harvested and extracted at their source. Utilising natures very best resources, he discovered that, perhaps unbeknown to most of the Western world, these native herbal medicines and traditional healing methods were what carried the secret to perfect skin.
The first product in the must have line up is Dr Jackson's signature cream, which contains bioactive extracts of the wild harvested Kigelia pinnata tree, from sub-Sahara Africa, which is known to smooth and radiate the complexion, diminish age spots, reduce puffiness and have an overall firming effect on the skin by restoring its elasticity. The rest of the range, which includes a pure coconut oil, a face oil and two moisturisers, all have a variety of ingredients that ultimately work to soothe, firm and protect the skin naturally.
All of the products in the line are 100% organic and free from any chemical nasties. Not only is the cute apocrathy -style packaging very display-worthy, but its also fully recyclable too and a percentage of all sales go to 'The Natural Product Community' – a non profit organization that works to fund medicinal plant research and take funds back to the country of origin of the plant species to support indigenous cultures. So you get brighter skin and a brighter conscience too. Win win