Spring It Home
Experience a taste of Spring with our carefully curated menu. Award-winning, heavenly massage, beauty and wellness treatments brought to you.
TREATMENTS & PACKAGES
Pricing incl tax & service. 100K Spring delivery fee for Pererenan, Canggu, Kerobokan & Seminyak 200K Spring delivery fee outside of these areas.
MANI or PEDI TIME | 45min | 190K
The ultimate treat for your hands and feet with our signature service for ladies and gents.
Add polish 20k OR add gel 140

HAIR REPAIR | 60min | 330K
Tame your locks with an intensive conditioning treatment for damaged and colour treated hair. Our ultimate repair treatment includes a relaxing neck, shoulder and arm massage.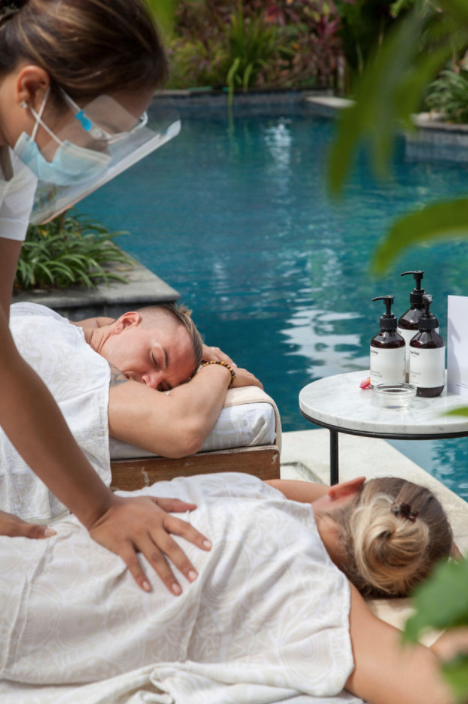 BODY THERAPY | 60min 340K | 90min 480K
Choose from Relaxation, Deep Tissue, Balinese and Shiatsu massage techniques. Our expertly trained Therapists will tailor a treatment to suit.
GO & GLOW | 75min | 460K
Our Vegan Facial is rich in antioxidants, replenishing and rehydrating tired skin by improving skin texture and pigmentation. A clay mask purifies and detoxifies followed by a Moringa mask to help reduce fine lines and wrinkles.
NATURAL LIFT | 60min | 460K
Indulge with an ultra-hydrating pressure point facial massage followed by a healing moringa and aloe vera mask. A gentle scalp, neck and shoulder massage removes tension and improves blood flow and circulation.
OVERINDULGENCE | 75min | 495K

The perfect remedy for late night! Recover with a decadent foot bath using hand blended coconut, white tea and citrus lily wash followed by a massage of the feet. Our SOS aloe eye rescue treatment will soothe puffy and tired eyes while you enjoy a neck and shoulder massage.
GET-SET, RELAX | 105min | 630K
For active bodies this treatment eases aches, pains and tight muscles with an intensive full body sports massage followed by an exfoliating foot scrub with pedicure.
SPRING REVIVAL | 120min | 715K
Refresh your complexion with a natural facial loaded with nourishing ingredients and pure papaya mask to hydrate. A full body massage will then Spring you back to life.
For reservations | WhatsApp - +62 853 3844 7500 or ENQUIRE ONLINE (Bali only)