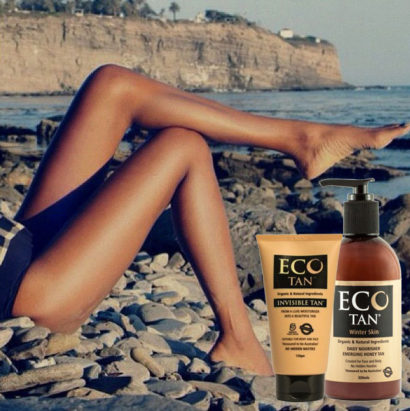 We Love Eco Tan
The ultimate organic sunless tan has arrived at East Day Spa this summer.
Here at East Day Spa, we're not ones to hop into a tanning bed or spend too long bathing outside in the sun and believe neither should you! However with the arrival of summer, chances are a busy Christmas has left some of us wih pale legs and arms not yet ready to say hello to the summer sun.
Let's be honest – we all look better with a tan! But as not all of us are blessed with naturally olive skin or a beautiful sun-kissed glow, we enlist the help of our old friend self-tan. Gone are the days of an terrifying orange-glow or streaky finish, these days, a self-tan session fits just as easily into a daily routine as gym, moisturiser or laundry.
This summer, we're achieving our beach glow thanks to Eco Tan. Hailing from Australia, Eco Tan is the first company in Australia to create a truly natural organic tanning range. While we all know how harmful the sun's rays can be, what about all the nasties contained within products we lather on our skin instead? The Eco Tan range is 100% certified organic and made from a unique blend of cacao, chamomile, avocado oil and rose extracts so you can be confident in knowing that what your putting on your skin is good for you too. The formula is a perfectly long lasting chocolate coloured natural tan and because the tones in these self-tanning products are derived from cacao (chocolate) with no synthetic ingredients, you will never look orange!
The range includes the Eco Tan 'Invisible Tan' which is a tanning cream that is non staining, streak free lotion and develops into a gorgeous sun kissed tan in 6-8 hours. Perfect for applying before bed, the non-tinted cream will not stain clothes or linen which means you can wake up with the tan of your dreams!
For these who prefer a more gradual tan, the Eco Tan 'Winter Skin' is a beautiful everyday moisturising lotion that builds into a healthy holiday glow over a few days. This is a great option for fairer skin tones and for these who like to maintain a healthy glow all year round