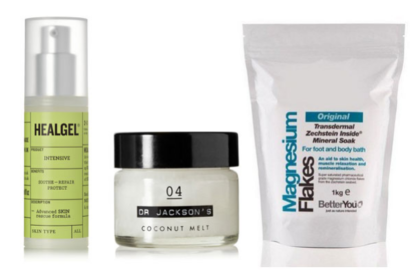 New Season Heroes
The revolutionary new beauty arrivals that every beauty cabinet needs NOW.
Dr Jackson's*
Aside from the fact the good-looking amber coloured bottles and jars look amazing on our bathroom shelves, Dr Jackson's eco-luxe line of skincare has the beauty world buzzing. The all-natural range sold out three times over when it was first launched at Harvey Nichols in the UK! The eco-luxe brand has now hit Spring Spa. The skincare line features ingredients from South Africa that are free of synthetics and are sure to impress even your most avid natural-loving friends with its antioxidant packed formulas. Dr Jackson's founder, Simon Jackson his PhD from the Kings College School of Pharmacy in London specializing in African medicinal plants and dermatological disorders before traveling to countries like Zimbabwe, Indonesia, and Peru in search of the world's most skin-friendly flora. What's best? Dr Jackson gives back to the local communities where he sources his ingredients. We're big fans of the Coconut Melt 'Everything Balm', the world's best multi tasker. Just ask Miranda Kerr! Formulated with 100% organic coconut oil, Dr. Jackson's Coconut Melt can be used as a body balm, hair oil, lip balm or cuticle oil.
* Exclusive to Spring spa.
HealGel
Designed to deal with 'unhappy skin'- originally, the kind that had recently gone under the knife, HealGel was designed by a team of leading British plasic surgeons who set out to provide a genuinely effective rescue treatment for all skin types. The team behind it (including the Surgeon who's working on the first full face transplant) took three years to perfect the formula.
As a result, this wonder product, praised by Tatler Magazine as a 'total godsend', contains technology usually reserved only for medical advancement. If there is a problem with your skin, chances are this is your cure. The now cult-status beauty product has been found to have a a powerful effect on the appearance of scarring, stretch marks, sunburn, blemishes, redness and generally unhappy skin. Use as a serum, or even as a daily primer beneath make-up . The beauty of this formula helps to increase collagen production, decrease fine lines, wrinkles, swelling and puffiness, and encourages a radiant complexion. We've adopted HealGel as our 'everything' skin salve. It's light, non-greasy and best of all, it's free from all the bad stuff (parabens, colourants and petrolatum.) From simple mosquito bites, sunburn to acne scarring, bruising and inflammatory skin conditions such as rosacea or eczema, HealGel is a fuss free product which works equally for day or night, lasts well and balances the skin. the list of ingredients is extensive and impressive; Arnica and Madecassoside, liposomes, peptides, biodynes, omega oils, hyaluronic acid and more, but all you really need to know is HealGel is your speed dial to a flawless complexion.
Magnesium Flakes
We are big advocates of 'bathing with purpose' – Bathing with purpose is basically 'treatment bathing'. A guilt-free way of giving some love to your body while totally relaxing. It's also minimum effort, maximum output.
Predominantly, magnesium has a calming effect on the nervous system and can help ease anxiety, relax muscles and nerves helping maintain a good quality of sleep. magnesium is also highly regarded for its ability to smooth and soften skin, helping to reduce irritation and has been known to ease redness and irritation caused by eczema.
Magnesium Flakes are absorbed faster than capsules and tablets; delivering magnesium directly into the skin tissue and entering cells immediately. Simply pour into the bath and soak for a minimum of 20 minutes. You can be guaranteed to come out of the bath calmed, soothed and serene.
The flakes have no visible effect on the bath, they don't smell nor change the colour of the water. For a more luxurious bath, try also adding in some essential oils (we recommend Aromatherapy Associates) and to turbo-charge the sleep-inducing effect, add some lavender.
HealGel and Magnesium Flakes are all available at East Day Spa and Spring spa and Dr Jackson's is available exclusively at Spring Spa.