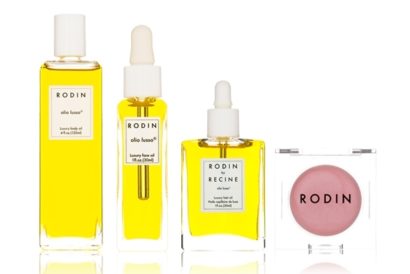 Spring Hero Product: Rodin Oilo Lusso
Seeking hydrated skin, and a luminous complexion? Look no further than this latest skin superstar.
The oil that singlehandedly helped to propel oils to the top of beauty must-haves, Rodin Olio Lusso is the reigning king of facial oils. Chances are you might have already heard of this magic skin elixir, a favourite amongst the fashion and beauty set alike (Gwenyth Paltrow, Liv Tyler and every beauty editor worth knowing are among Rodin's loyal fans). The brainchild of former stylist Linda Rodin, the formulation was dreamt up in her apartment mixing and matching her favourite essential oils, after years of looking for a beauty solution that didn't exist. Credited as one of the first beauty 'oils' on the market, Rodin Oilio Lusso is arguably still the most highly regarded.
Richer than most oils you might be used to (like Rosehip or Argan), the luxe Rodin Olio Lusso is designed to be used sparingly. A complete miracle worker, this face oil works almost like a moisturising facial. While the heavenly scent (jasmine and orange blossom) and luxury packaging could sell you alone, Olio Lusso is packed with eleven essential oils, including the Vitamin C rich Neroli and other botanicals chosen to combat every skin ailment from ageing, redness to evening skintone and healing acne.
The multi functional oil is most effective when simply applied to damp, clean skin like a moisturiser. A few drops instantly melt into the skin to quench even the driest of winter skin. The result? A glow that is fresh, radiant and moisturized and anything but greasy.
And just in case you needed any more convincing to add this coveted beauty oil to your daily routine, the Victoria's Secret angels are prepped prior to their makeup application with nothing less than the magic Olio Lusso oil. Makeup artists like Gucci Westman and Pam McGrath also count Rodin as a permanent beauty fixture in their kits, rubbing a tiny drop into foundation or on top of the cheekbones for a little extra dewy glow.