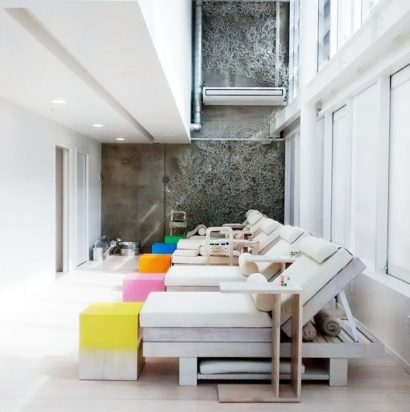 Wellington Launch
Spring, New Zealand's most contemporary day spa, is delighted to announce the Wellington launch of its unique social spa experience.
Spring has opened in one of the city's landmark heritage buildings, the renowned Il Casino site, on the corner of Tory and Jessie Street in Wellington CBD.
Ina Bajaj, CEO and Founder of Spring, has always considered Wellington home. A Kenyan native raised in Wellington, Bajaj notably founded the hugely successful Curry Club in the 1990s.
Spring is the sister brand to East Day Spa, the luxury spa brand also founded by Bajaj with properties in Auckland, Wellington, Queenstown, Melbourne and Bali.
"Wellington is such a progressive and cool city; it's exciting to return and launch Spring in my home town. Spring's vibrant, creative and fun social spa experience is the perfect fit with the energy, lifestyle and culture of Wellington."
Spring brings clients on a multi-sensory journey. Breaking away from the conventional spa experience, Spring offers high quality face, nail and body treatments in a fun, contemporary, open-plan atmosphere.
Built around the concept of a 'social' spa, Spring is designed to allow clients to customise their experience to suit their mood – whether that be by bringing a group of friends, chatting to a neighbour or simply drawing the curtains to relax in solitude.
The pioneering concept, first launched in Queenstown in 2012, has expanded to a second Auckland location and internationally to Petitenget, the upmarket enclave of Bali which houses high-end fashion stores and eateries like Ku De Ta, Potato Head Beach Club and the W Hotel.
Spring's sleek, contemporary interior was designed by acclaimed Saatchi & Saatchi, Worldwide Director of Design, Derek Lockwood.
In addition to offering a wide menu of services, Spring is the only spa that exclusively retails world-leading brands Bliss, Dr Jacksons, Heal Gel, Deborah Lippmann and RODIN olio lusso in New Zealand.