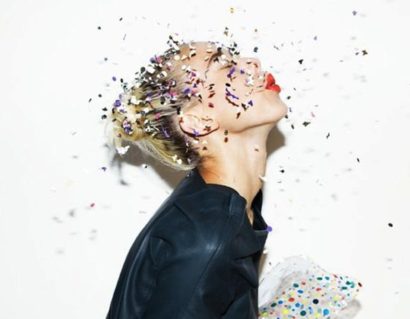 The 2014 Beauty Resolutions
We round up a list of promises worth sticking too this year. Get inspired and trade in any bad habits for these new-and-improved ones.
It's officially the New Year. Between all the Christmas and holiday festivites, no doubt you've been thinking over your New Year's resolution (or perhaps, lack of them). This year, we're committing to some promises that will ensure 2014 is our prettiest yet. While some of the below might sound all to familiar, it's sticking to them that's the hard part. So get motivated to amp up the beauty regime and ring in the New Year with our list below.
1. Thou shall take off thy makeup every single night
Never, ever go to sleep with your makeup on – no matter how tired or late it is! Cleansing your face each night is the only way to a clear complexion. Invest in a Clarisonic Mia face brush to really clear away these clogged up pores and make the process all the more fun.
2. Thou shall exfoliate thy lips
Exfoliate lips? Yes you heard right. It's not only the face that needs a little scrub-a-thon every now and then to refresh and revive it. Your lips do too! With bright lipstick an essential in beauty bags, a perfect lip canvas is an essential to start with. Try Sara Happ's famous sugar lip scrub to prep your lips before any lipstick application.
3. Thou shall start using retinol
No matter your age or your stage, any skincare regime can benefit from the addition of retinol. Retinol, a vitamin-A derivative, while ultimately combating premature ageing and wrinkles, also targets dark spots and dullness by boosting collagen and turning skin cells over more quickly, making skin plumper and fresher-looking. Try REN's 100% nature derived version, the Bio Retinoid Anti-aging concentrate.
4. Thou shall never leave the house with chipped nails
There is nothing worse than a chipped manicure. There is also no excuse for one either with our 15-minute express file and paint. The 15-minute file and paint will leave you with primped hands or toes in a flash.
5. Thou shall embrace oils
And by oils, we mean the good skin-kind. Body oils, face oils and essential oils are your friend. Pep up your wellbeing by trying some of the range of essential oils from Aromatherapy Associates, lather your way to baby-soft after each shower or bath with Elemis' Japanese Camellia Oil (a favourite of Victoria Beckham) and switch up your moisturiser every second day for Dr Jackson's all-natural famed face oilYou (and your skin) will thank us