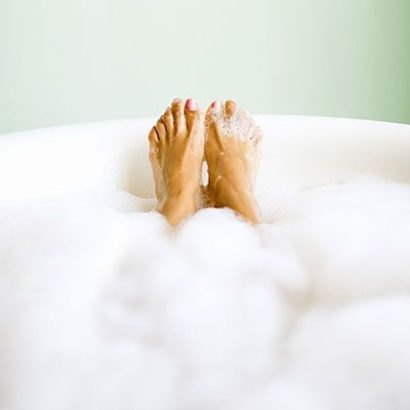 Relax... It's the Weekend
Indulge in some much needed 'me' time and recover from the week with our favourite wind-down primping activities.
Hair Love
Fondly known as a miracle in a bottle (and for good reason), Dr. Jackson's Coconut Melt is the perfect leave in treatment to give your hair a little TLC. While it can be literally used all over the body from head-to-toe, we like to lather up our dry ends in the oil, massaging in towards the scalp, before wrapping up in a towel and letting it marinate through the length of a good movie or catch-up TV show session. Forced relaxation you might say (you're not going anywhere with a towel head!) but after washing out, any signs damaged hair will be transformed into healthy, shiny locks.
Bathe
No time for a mid-week bathing session? We hear ya. But a bathing session with Magnesium Flakes is a weekend ritual we look forward to most. Chinese medicine refers fondly to magnesium as the 'mineral of beauty' and for good reason. Soaking in magnesium salts has been shown to markedly improve skin hydration, speed wound healing, enhance skin barrier function, and decrease inflammation. It works wonders for quashing signs of fatigue, easing anxiety and soothing dry skin.
Body Love
Immediately following your mineral soak, massage a generous amount of Aromatherapy Associates Renew rose oil. Let your skin drink up the renewing and conditioning powers of the oil, which will leave skin feeling soft, supple and smelling seriously fantastic.
Face Love
Now onto the face! Pore-less skin and a glowing complexion don't come without a little hard work. It just so happens that REN have managed to bottle that hard-earned healthy glow into a miracle mask. The Glycolactic Skin Renewal Peel Mask is what we like to call a 'godsend' in the weekend to revive tired skin instantly and leave us with a fresh-face come Monday morning. The all-natural mask helps to ease congestion, reduce fine lines and transform the visage with all kinds of skin-brightening goodness. Let the smoothing, firming and magical powers of the bio-active ingredients seal the deal of a Sunday well spent