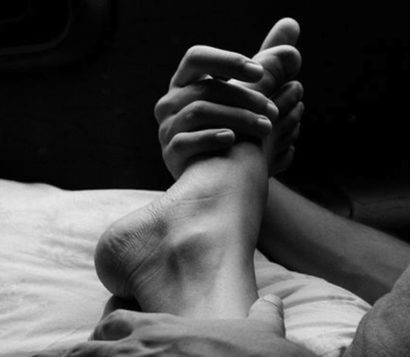 Weekend Ritual: Foot SOS
We put our feet through a lot. So before the weekend comes to a close, take some time to give them a little TLC.
Let's face it, for the most part; we put our feet through a lot. Whether it's torturing them daily in heels, keeping them hidden away in winter socks or stuffed into boots, it's the stuff of pedicurist's nightmares.
So before Monday rolls around and we swap our comfy weekend flats back for our 9-5 heels and boos, we've summed up a series of steps for saving your soles.
1. Soak, Soak, Soak
Soaking your feet is never NOT a good idea, and even more so on a chilly winter weekend. Feet can get neglected when standing in the shower, so fill a bucket with medium-hot water, and add a sachet of Magnesium Flakes Bath Soaks and a generous pour of your favourite essential oil from the Aromatherapy Associates range (we recommend the 'Deep Relax' on a lazy Sunday afternoon). Pop your feet in and just sit back and soak for a while. The Magnesium flakes are genius to sooth your feet muscles, soften the skin and detoxify the entire body. The whole process is an excersicse in stress reliving so sit right up until the water gets cold. We can't recommend it more!
2. Soften and Exfoliate
While regular pedicures will help maintain soft and healthy feet, sometimes a little at-home treatment is required. We call on the heavy-hitting Peppermint-scented 'Foot Patrol' which breaks down tough, dry skin with its targeted formulation containing a ton of alpha hydroxy acids. Massage generously into the feet for about five minutes before throwing on a pair of Bliss's 'Softening Socks'. Perfect for popping on before bedtime, these clever gel socks are self-activating, and immediately work to soften feet with a hydrating combination of olive oil, grapeseed oil, and vitamin E.
3. Book in for a foot massage
Reflexology and foot massage offer all the pampering of a massage with none of the inconveniences (like oily hair and body!)
The signature Spring foot massage and Relexology treatments will relax and soothe even the busiest of feet, working its magic to improve circulation, reduce stress and rebalance your body. Our Spring therapists are specially trained in this incomparably relaxing foot treatment, and will warm, wash and massage your feet with expert precision until even the roots of your hair feel relaxed