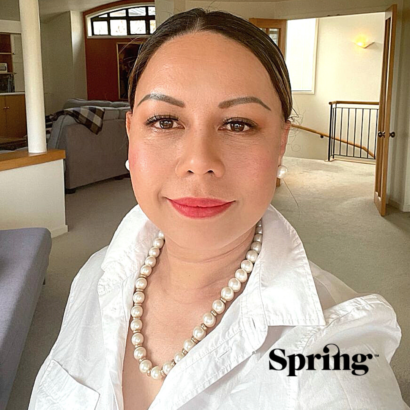 Diversity is the one true thing we all have in common
Leyda is from the Philippines and moved to New Zealand in 1997. She joined East Day Spa in 2013, then moved to Spring Spa St Heliers in 2014.

Specialising in Cosmetology and Spa Therapies Leyda has numerous years of experience in the beauty industry.
Q: How did you originally become a therapist?
A: In 2001 I decided to go back to school and be a part of the beauty industry. Working in the beauty industry has always had a special place in my heart. As a teenager I suffered from bad acne, big pores and scarring. I've always admired people that had beautiful skin and aspired to be like them.
Q: What do you like about working in the spa industry?
A: Helping clients with their skin concerns, giving them the right advice on what treatments and products to get. I love being a part of people's skin journeys and seeing the confidence clear skin brings them.
Q: What do you like about working in your current job?
A: What I like about my current job is the people I work with. We are family.
The location is perfect! We're situated right next to the beach, great bars, cafes, and restaurants among other great facilities.
The clients are lovely and full of respect towards us as therapists.
Q: How did you come to find yourself in New Zealand?
A: Like many other people, I saw New Zealand as a place of opportunity. A safe place to raise a family with a stunning landscape to explore.
Q: Have you worked in other destinations overseas and what would you say are some of the challenges you've experienced along the way?
A: After my studies I worked on a cruise ship as a spa therapist. This was an amazing opportunity with so many perks. However, not being able to see my friends and family for 12 months was intense and don't get me started on painting nails while the sea's rough!
Q: What have been some of the highlights?
A: The main highlight I'd have to say was the travelling I've got to experience while working. While working on a cruise ship, waking up in a different place every day was always a thrill. Also connecting with so many people around the globe that I still keep in contact with.
Q: What are some important skills you've learned living and working overseas?
A: I would have to say adaptability and communication are the main skills I've learnt overseas. Without those main skills I wouldn't be where I am today.
Q: What do you like to do in your spare time? What are your interests or hobbies?
A: In my spare time, focusing on myself and my mental well-being is number one. I spend my time exercising whether it's running, dancing or cycling. You'd also probably find me at the beach meditating or cozied up to a good book.
I also spend my free time with my family and friends, where we generally like to wine and dine.