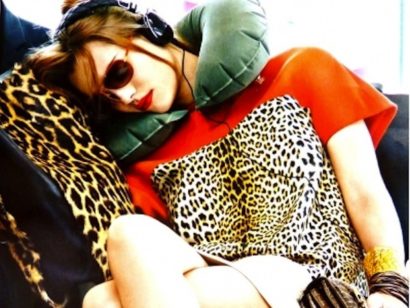 Beat the Heat
Hot on the heels of a pre-winter escape to our spiritual home in Bali, here are some of the products that will be coming along for the ride.
Travelling exposes our skin to all sorts of environmental changes that can take a huge toll on it if not adequately prepared. While the call of balmy, tropical weather couldn't come sooner, it's important to plan products wisely to ensure our skin is just as well prepared for the heat as the contents of our suitcase. What you eat, drink, where you sleep and the water you wash and shower with can mean HUGE changes for your skin…and huge changes usually means break outs.
Here are the four products that we won't be leaving without…
Eye Mask
First things first, when it comes to flying, we like to try get as much sleep as possible. The more time asleep, the less time spent realising how boring flying really is and the faster we get to our destination. However the time you ARE awake in-flight can be wisely spent. All these hours amongst circulated air dehydrates skin terribly, so grab a bottle of water and come aboard prepped with some of the legendary Bliss Eye Masks to de-puff and revive your eyes. Dubbed 'an energy drink for your eyes', this instant brightening treatment is a sure fire way to fake a full eight hours whilst in the sky.
Facial Oil
It's a common misconception that using facial oils will clog your pores, especially in the heat. Our skin needs to stay nice and hydrated all day long – even when you're sweating it all out poolside! Dr Jackson's Face Oil is the perfect respite for skin after a long day in the sun. The oil is deeply moisturising, so we like to let it work its magic at night. The Baobab helps to alleviate dry and damaged skin while the calendula is renowned for anti-inflammatory, soothing and refreshing properties and will help soothe any irritation and keep breakouts at bay.
Blemish Buster
Change of climate and environment will inevitably lead to at least one breakout. Don't let it put a damper on that holiday glow. We make sure always to travel with a tube of REN's ClearCalm replenishing Gel cream. The cream is formulated is designed to combat and treat blemishes without harshness and soothes skin calmly much like a night serum.
Facial Mist
Dry, recycled plane air does nothing to our quest for flawless, glowing holiday skin. We like to combat dehydrated flight skin with our trusty Elemis Apricot toning mist. There is a reason this has been our secret weapon for years! Spritz liberally throughout your entire flight to calm your skin and reduce irritation, giving rise to a fresh sensation and radiant appearance. Buy a fresh bottle before you go as this is perfect for using all holiday long – especially to help alkalise and adapt your skin to the change in water.