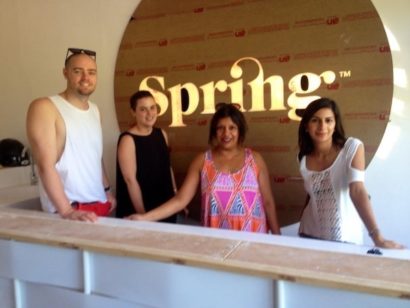 Spring Goes Global
With Spring's first international outpost is set to open its doors this week, get ready to say hello to Spring Bali.
We are excited to announce that Spring, New Zealand-established social spa, will open this week in none other than the world-renowned spa destination of Bali. Travelers, get ready to indulge in a new innovation of spa experiences.
This Spa will be located in the upmarket enclave of Bali at Jln Petitenget 100. The area houses high end fashion stores and eateries like Ku De Ta, Potato Head Beach Club and the W Hotel.
Spring first opened its doors in Queenstown in 2012 before expanding to a second Auckland location, in the beach-front suburb of St Heliers. Our modern take on a traditional spa was designed so guests can experience treatments with friends in an innovative and open-planned environment.
Spring Bali will boast our largest space yet. With cutting edge interior designed by the acclaimed Derek Lockwood of Saatchi & Saatchi Design Worldwide, Spring Bali will build on the our existing offering by featuring a DJ booth, beverage and blow dry bar, and unique spa spaces over multiple levels.
Ina Bajaj, founder of East Day Spa and Spring, cites the rapid success of Spring in the New Zealand market as motivating her decision to expand into Bali.
"The concept has taken off here, and it's exciting to see a New Zealand-created brand being exported overseas to one of the world's fastest-growing hotel and spa economies."
"Spas have become one of the main attractions in Bali, with thousands on offer to cater to customers from all over the world. Spring will be the largest site for the brand, and unlike anything else the Balinese market has seen."
We know where our next holiday destination will be…see you there!