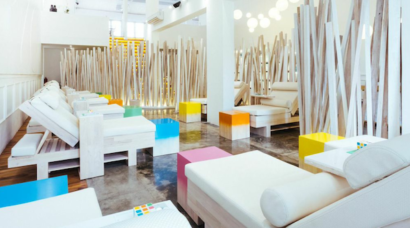 The Rise of Spring
With an impressive resume that already boasted four luxury global spa destinations, Spring founder Ina Bajaj knew a thing or two about the industry when she embarked on an innovative new industry project – Spring.
After ten years spa experience at the helm of the revered and luxurious East Day Spa portfolio, Ina had predicted a shift in the industry. No longer was the spa experience being considered a luxury indulgence, but rather one that was being sought out by the everyday consumer. While an abundance of urban and suburban nail salons were popping up as people no longer wanted to paint their own nails, wax their legs or pluck their eyebrows, Ina saw a gap in the market for a spa destination designed for the time-pressed and tech savvy.
Enlisting the help of acclaimed Saatchi & Saatchi, Worldwide Director of Design, Derek Lockwood, Spring was the first of it's kind in New Zealand. Presenting this growing industry trend in an offering like no other, Spring combined cutting edge spa treatments and world famous beauty brands together with a modern, crisp design and a social spa environment.
The award-winning, luxe interior design offers the modern spa customer a unique multi-sensory experience. Bright colours, tactile walls and a sense of space brings light to the often dark spa experience. Customers also have free use of iPads, fully stocked iPods and free WIFI during their time at the spa. Food and drink options further complement the social aspect of the surroundings.
Like the East Day Spa chain, Spring is highly innovative. The treatment menu is reviewed on a regular basis in order to truly cater for customers' preferences and keep up with beauty trends. An extensive range of treatments at competitive prices, from express nails and waxing to luxurious massage and facials, has meant that Spring has managed to retain a sense of luxury and match the five-star reputation of it's sister spa East Day Spa.
A proactive approach to researching and seeking out coveted global beauty brands has allowed Spring to count itself as an exclusive retail stockists for names such as Bliss World, Deborah Lippman nail polishes and RODIN luxury oils. The menu of global recognised brands has allowed Spring to attract interest from international customers all over the world.